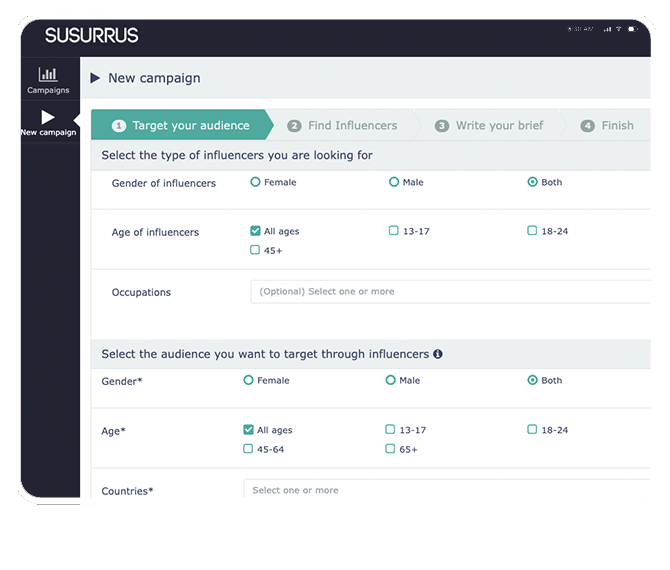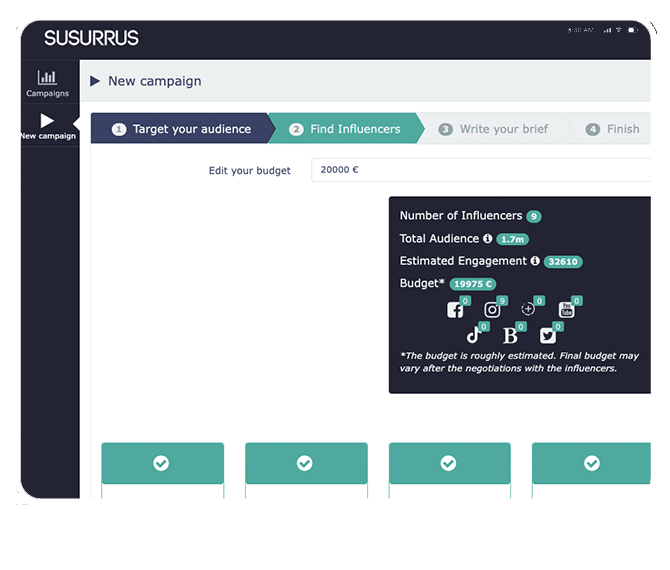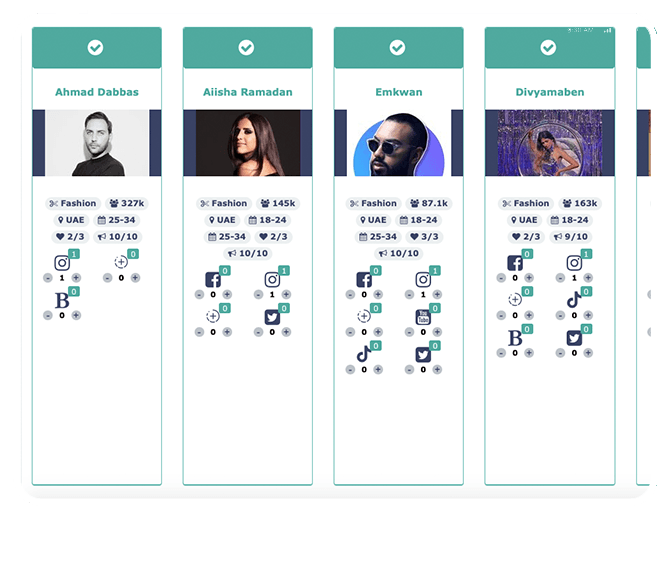 Target. Find. Plan.
Target Audience
Access more than 4k influencers in EMEA region.
Find Influencers
Target their followers according to their demographics and find automatically the influencers that match your criteria.
Plan Campaign
Choose the number of posts, the influencers, the social media etc.
Notify. Negotiate. Run.
Notify the influencers
Let the influencers know about your campaign and they will accept or reject you.
Negotiate the prices
Negotiate the prices directly with the influencers as the final prices may vary.
Run Campaign
Once the budget is finalized, you will run the whole process fully digitally.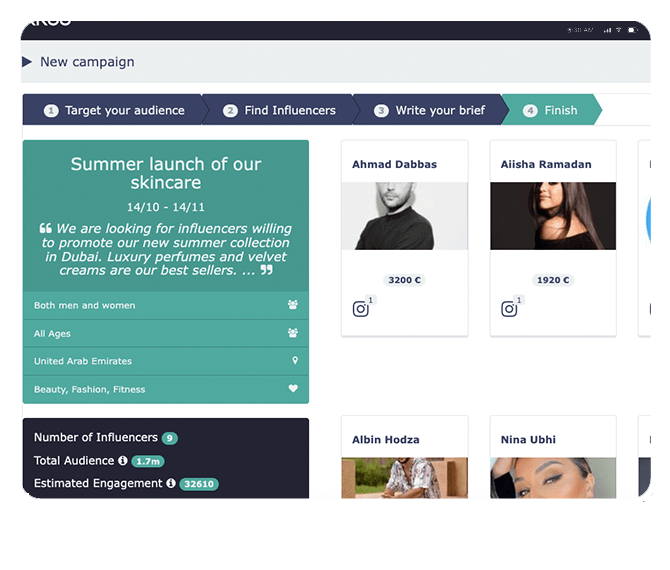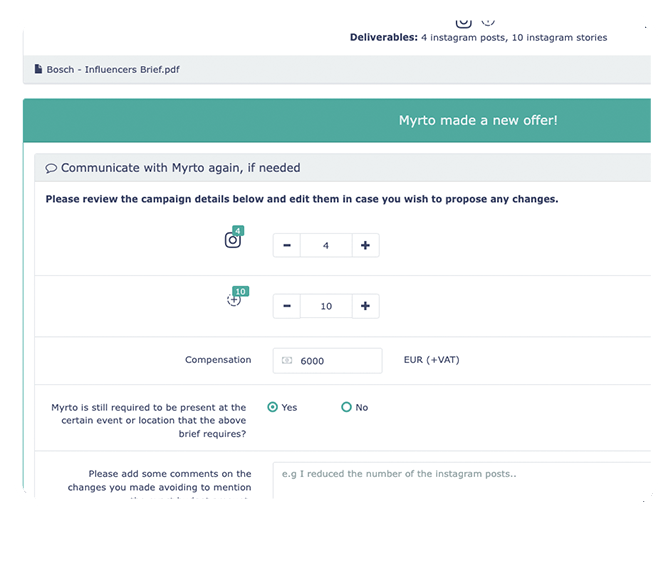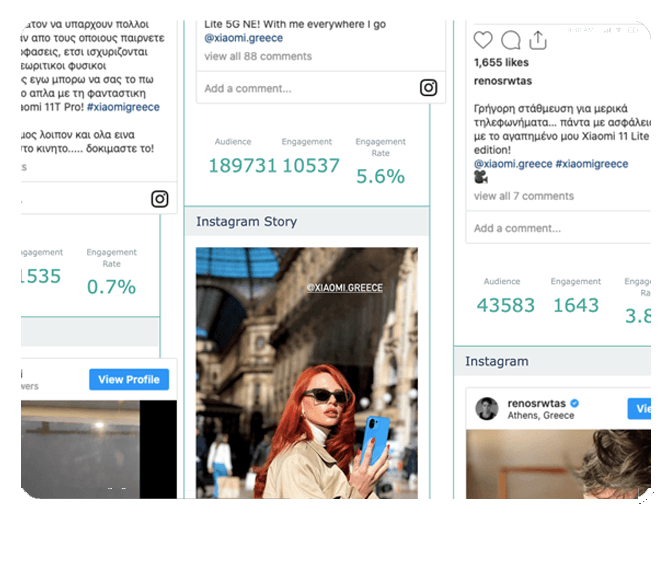 Add-on services we offer
Campaign Reports
Get detailed report of the ROI of your campaign. Available on custom formats also.
Contracts with Influencers
Use ready-to-use contracts with influencers or customized according to your needs.
Real-Time Support
Get 24/7 support on your campaigns, either through email and phone or use one dedicated account manager
Proposing Influencers
Our team can also hand-pick influencers for your campaign.
Creative Concepts for Campaigns
Having trouble coming up with ideas of how to utilize the influencers? We can help you on that.
Influencer Marketing Strategy
Plan with us long-term strategy plans and see better results.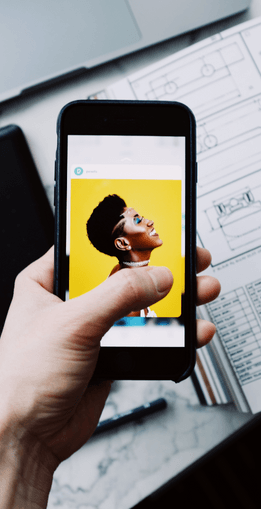 Influencer marketing made simple! Susurrus helped us to create great campaigns with the right influencers, the right audience in the most budget and most important...time efficient way!
Christos Athanasoulis
- Digital Marketing Consultant of Domino's
There is a wide variety of influencers. The platform is very easy to use and to manage and it's easy to create a new campaign. It's very good that there is a direct and fast communication with influencers.
Marios Giannopoulos
- Digital Marketing of Frezyderm
Susurrus helped us reach the next level! The platform has a wide variety of influencers and important details for each one of them to make sure that you are making the right choice for your audience!
Zoi Minogianni
- Social Media Lead of GoStudent
Susurrus gave us the opportunity to work easily and effectively with influencers. Through the platform, we can choose our targeting, see our options and have direct access to data.
Communication Effect
- PR Agency
Choose your plan
You can switch or stop your plan anytime, according to your needs. There is no commitment.
Basic package
Access to our platform with more than 4k influencers
Popular Choice
€
1200/
month
Premium package
Access to our platform with more than 4k influencers
1 Dedicated workshop/year
2 free proposals/campaign
Gold package
Access to our platform with more than 4k influencers
2 Dedicated workshops/year
Dedicated account manager
Unlimited proposals/campaign
Design & Implement Influencer Strategy
We are here to help
If you are unsure which pricing plan to choose or you are looking for something custom, then contact us and we will book a call with you.